Web
I'm a web content creator and strategist with a proven track record of leading web content strategy, developing and supporting processes to ensure consistency and sustainability, and finding solutions for special situations as they arise. I also produce a lot of content. Here are some examples of my web content work.
S&P Global
I partnered with Minneapolis-based content strategy agency Brain Traffic and a talented team at S&P Global to update high level pages of the S&P Global website. The content on these pages needed to be compelling and engaging, demonstrate S&P Global's expertise and depth of knowledge, and accurately represent the company's unique offerings and value. As a company in a highly regulated industry, the effort involved multiple layers of review and stakeholders around the world. Here are a few examples of the work we did:
I partner with 3M subject matter experts and marketing strategists to create websites, tools, thought leadership articles, whitepapers, brochures, and eBooks for 3M Connected Roads. The Connected Roads division focuses on preparing our roads for vehicles equipped with advanced driver assistance systems (ADAS) and connected and automated vehicles (CAVs). We aim to educate about ADAS-equipped and automated vehicles, raise awareness of the need to prepare our roads for these vehicles, and promote machine vision optimized transportation infrastructure.
Polaris Off-Road Vehicles — Model Year 2018
Model Year product launches are significant events for customer facing vehicle manufacturers like Polaris. For the 2018 model year, the Polaris Interactive team faced a unique set of circumstances for the website launches of the Off-Road Vehicle brands (RANGER, Sportsman, RZR, GENERAL, and ACE), as we were moving these brands to a new Content Management System (Episerver) with a fresh design, enhanced CPQ platform, and all new content. Additionally, we were under tight, strict deadlines to have the websites ready by the Polaris Dealer Show in Las Vegas.
As the sole writer on the project, I worked with the business marketing teams to create new content for the brand and vehicle landing pages, entered and updated content in Episerver, and performed testing and QA before launch.
Check out a few of these highlighted brand and model pages, and explore the site from there!
Brand Pages
Model Page Highlights
La Jolie Suite
I partnered with fellow Content Strategist Kelsey Lundberg on a website for La Jolie Suite, a new hair salon in Saint Paul. We focused on creating compelling content and an intuitive user experience while leveraging local SEO opportunities.
Polaris Work & Transportation Vehicles
Polaris launched 2 new websites for their Work & Transportation line — Polaris GEM and Polaris Commercial. For this project, the interactive team created new designs and content while migrating the sites to a new Content Management System (Episerver). I provided copywriting, content strategy, and editing to ensure compelling, consistent, clear, customer-focused copy across the websites.
Website Redesign
I wrote the copy for the most recent redesign of the Indian Motorcycle website. I created compelling, aspirational, action-driven content for the homepage, model pages, feature pages, and various brand building pages.
Jack Daniel's Limited Edition Motorcycles
For the last 2 years, Indian Motorcycles has partnered with Jack Daniel's to design and build hand-crafted, limited edition commemorative bikes. I worked with the Polaris Interactive Team and Indian Motorcycles on webpages that reflected the unique aspects of the partnership and the motorcycles. I wrote the content for the landing page, a Jack Daniel's 151st anniversary page, and a 150th anniversary page.
Nortek Air Solutions needed an updated responsive website to reflect their extensive family of brands and the innovative nature of their HVAC solutions. I partnered with Concept Group, a creative agency in Saint Paul, to create an engaging, user-friendly online experience for customers and sales reps. I provided content strategy—including a full content audit, a voice and tone guide, taxonomy, SEO, and metadata recommendations, and IA strategy—and wrote new content for every page of the website.
3M was moving a large portion of their Oral Care product website to a new web platform. In the process, they wanted new content that was engaging, clear, and, most importantly, SEO friendly. I worked with creative agency Concept Group and subject matter experts to write relevant, optimized content and metadescriptions on a tight deadline.
Here are a few of the pages I worked on:
Responsive Website for North Central University — Best in Class, 2018 Interactive Media Awards
I worked with mStoner, web strategist Kelsey Lundberg, and internal North Central team members to launch a responsive northcentral.edu website. The new site received a Best in Class award at the 2018 Interactive Media Awards.
Collaborated with mStoner and NCU team on design, functionality, and information architecture

Created content strategy, messaging, and all new content

Worked with content and web strategist Kelsey Lundberg on buildout, implementation, and testing plan

Built out site, curated and optimized photos, tested site on multiple browsers and devices

Worked with mStoner developers to troubleshoot bugs

Worked with NCU IT team to launch site
Responsive University Website
Bethel University launched a responsive web design in March 2015. I was a member of the core team responsible for design, content, UX, systems, and implementation. As part of the project I worked with Bethel's lead designer to create a new university homepage, school-specific homepages, and undergrad admissions and academic homepages.
MyCommerce.com - a Digital River Company
MyCommerce, a Digital River company, repackaged their ecommerce platform by combining 4 different products into a single offering--MyCommerce. As part of this project they rebranded the online ecommerce solution, created a new message architecture, and launched a new website. I worked on the content for the new mycommerce.com.
HTML Email
Bethel relies on HTML email to communicate with prospective students, internal audiences, and alumni. I wrote and built emails, measured results, and helped develop communication plans.
Undergrad Communication Plan
I worked with Bethel's Senior Communication Strategist Tim Hammer to develop a communication plan for prospective Bethel students. HTML emails are delivered to prospective students at designated intervals as they express interest, apply, and finish their enrollment steps. The plan adjusts as a student moves through the enrollment process and utilizes both content personalization and audience segmentation.
Email Test Campaign
I developed an email campaign to test the effectiveness of story forms of communication for building relationships and eliciting responses from high school seniors. I created four different emails, each using a different communication strategy ranging from brand language to third person prose to first person storytelling (using direct quotes from a recent alum). I divided our prospective student pool of 15,399 high school seniors into four groups, each receiving a different version of the email. The results demonstrated that first person storytelling was more effective than other forms of messaging in this type of email communication.
Video
I managed all of Bethel's video projects. That involved many different things, depending on the project. For some videos I wrote the script and directed the project. For some I shot and edited. And for others I found the right freelancer to fulfill the vision. Here are some of the projects I've worked on.
Directing and Producing
Welcome Week
This video celebrates move-in day for over 600 new Bethel students. I gave creative direction and support. Nate Larson and Tyler Goodling shot and edited.
The Bethel Community
I wrote and directed this video, again working with Kelsey, to talk about Bethel's unique community. Nate shot and edited.
Minnesota March of Dimes Nurse of the Year
I shot, edited, and directed this video to celebrate the work of Bethel Professor Karen Drake. The video was shown at an event honoring Drake as the Minnesota March of Dimes 2013 Distinguished Nurse of they Year.

Karen Drake has formed a close partnership with Uganda Christian University, working to improve nursing and healthcare in the country. Special thanks to videographer Bwayo Moses of Kampala Film School.
Digital
Bethel University partners with a media agency to place digital ads in a variety of formats. I developed the content, drove strategy, and collaborated on design concepts for the online ads.
Print
I've created a variety of print pieces for Bethel audiences. For these, I wrote the content and provided creative direction.
Brochures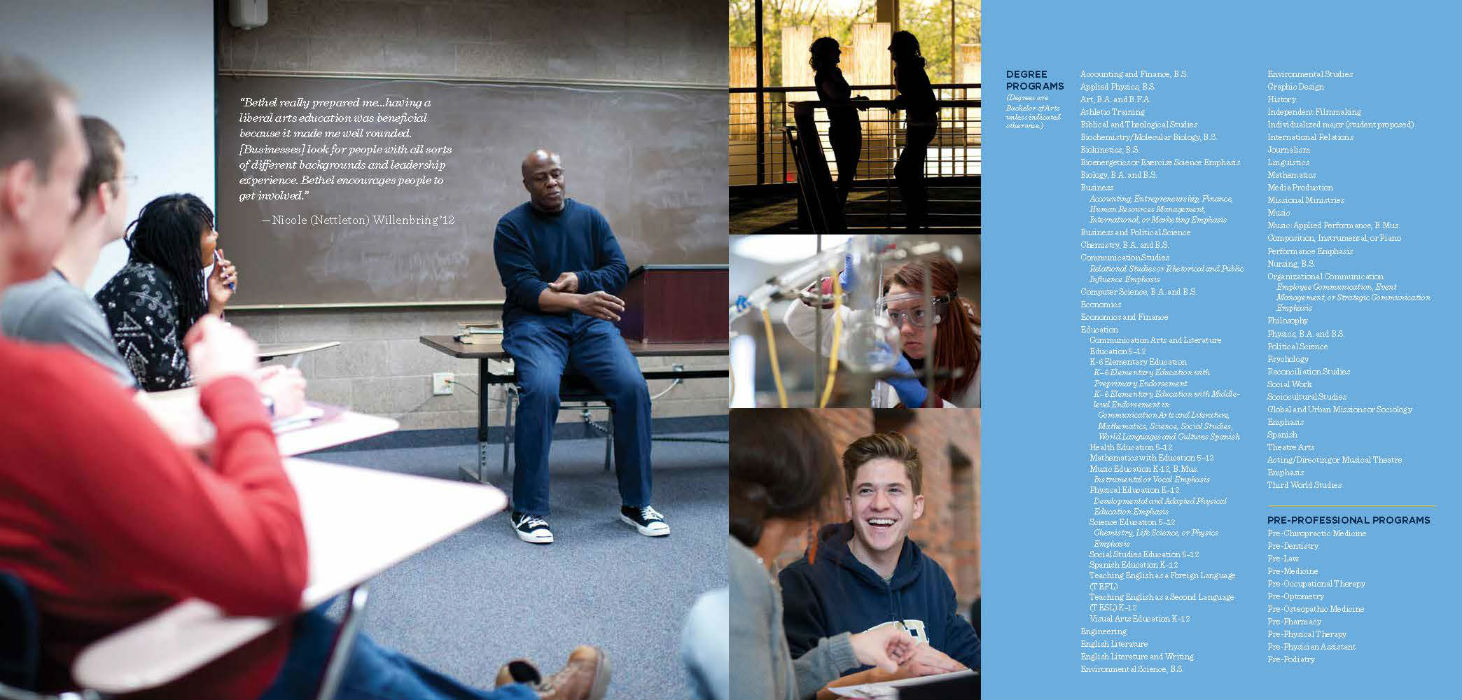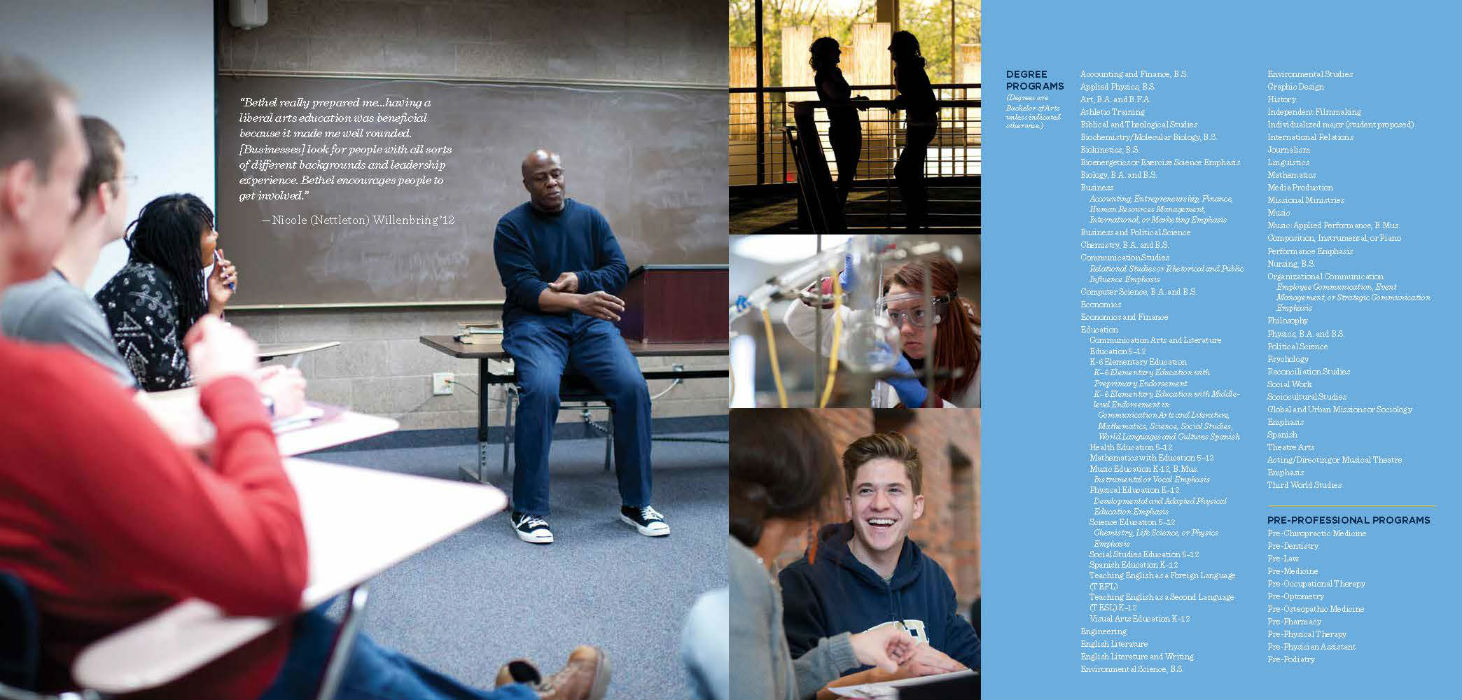 Magazine Writing
I regularly contribute feature articles to the Bethel Magazine. Here's an example.
A New Recipe for Learning
This article appeared in the summer 2013 issue of the Bethel Magazine and received a Bronze Award from the Minnesota Magazine and Publishing Association.
Profile
I managed Bethel's profile stories, which appear on Bethel's homepage and throughout the website. I created the concept, directed the design, managed the editorial calendar, coordinated photography, selected and interviewed profile subjects, and wrote the stories.
Content for Humans
I'm one of the founders and a regular contributor to Content for Humans, a blog on content strategy, branding and storytelling, team process, and all things web.
Technical
While at Banner Engineering I wrote technical documentation, application notes, press releases, and white papers. Here are a few samples.
Datasheets
Banner's datasheets serve as technical documentation, instruction manuals, and sales pieces. I wrote the content and did layout using InDesign.
Application Notes
Application notes present case studies and product applications to potential customers. I worked with application engineers to develop the scenarios and designers to create compelling and technically accurate visuals. I then wrote the application notes and added them to the Banner website. Banner used Drupal for their content management system.
Press Releases
I wrote press releases to notify the public about new product developments.